Taekwondo Ethics
THE 5 TENETS OF TAEKWONDO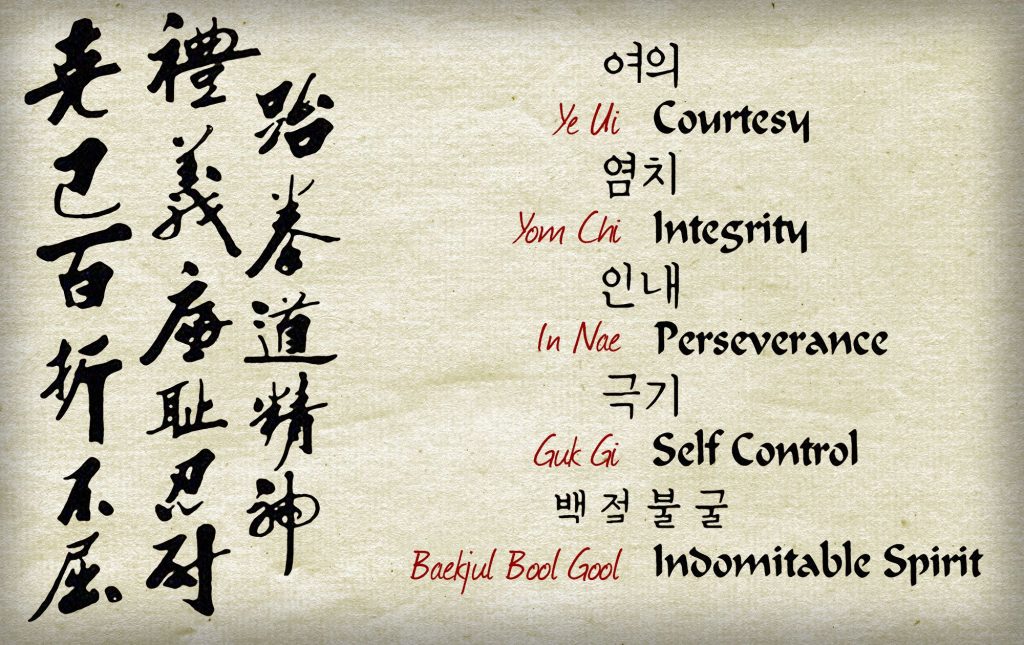 THE 8 MANNERS OF SOLEMNITY
The 8 manners of solemnity are part of an age-old Buddhist philosophy which greatly influenced the development of martial arts in Korea. This is about cultivating the correct qualities within oneself to be at harmony with others, the world and the universe. Ultimately, through Taekwondo training, individuals should reach a level of consciousness of existing in the "present". This occurs when one is completely in tune with oneself and nature to the degree that one's actions and reactions are coordinated with the forces around them, whether that be in the sparring ring, in a social setting or even when alone; when one is calm, aware and present in the here and now. As such, taekwondo is more than just training in kicking, punching and self defense or mental/physical coordination. It is about cultivating a 'spirit' that exists in harmony and peace. "Do" in Korean means "art," "path," "way," or "way of life." Central to this philosophy is the concept of natural 'duality', meaning the interaction of opposing forces. Harmony is achieved when opposite forces are distributed equally, resulting in balance. This is typically represented by the Eum Yang/ Yin Yang symbols of the East – like in our Yun Hap logo [see left]. For example, when an opponent uses positive (aggressive) energy, or in other words attacks, the defender should use negative (yielding) energy to respond, by stepping aside and allowing the energy of that attack to flow past harmlessly. In this manner, what was once hard (the assailant's attack) becomes soft (non injurious), and what was soft (the defender's passivity), becomes hard (an effective way to counter a potential dangerous assault), allowing balance to return.
The number "8" is a number of balance, harmony, and organisation, as represented in the 8 manners of solemnity. These 8 elements balance each other and are connected, flowing into one another – typically depicted in a circle, like the Taekwondo Jidokwan symbol [see left]. The circle represents a centre, a flow and a connection with all other things. The eightfold path (8 manners of solemnity) is meant as an ethical guideline to be considered, contemplated, and practiced, encouraging us to turn away from extremes and seek a simple approach, and to live a more harmonious life.
1. 정견(正見): 바르게 보기 VIEW RIGHTLY/ RIGHT UNDERSTANDING
To see things in the right perspective; seeing the world and everything in it as it really is, not as we believe it or want it to be. Studying, reading and investigating information and ideas, politics, and opinions. Developing an understanding and accurate perspective of the world around us.
2. 정사유(正思惟) · 정사(正思): 바르게 생각하기 THINK RIGHTLY/ RIGHT INTENT & DELIBERATION
While knowing what our heart wants, to be right minded, to think correctly, and have a positive attitude. Be motivated by friendly thoughts, without prejudice towards other fellow human beings and other living things and processes.
3. 정어(正語): 바르게 말하기 SPEAK CORRECTLY/ RIGHT SPEECH/ SPEAK WITH PROPRIETY
Think before speaking, employing compassion and consideration. This is about effective, thoughtful communication that unites people together. Speak in a way that is morally fit, accepted and courteous. Speaking kindly, truthfully and accurately were possible; eliminating criticism, gossip, lies, and impulsive or damaging angry words.
4. 정업(正業): 바르게 행동하기 BEHAVE CORRECTLY/ RIGHT ACTIONS
Conduct yourself in an ethical way, and influence others to act properly as well. This includes considering others and the environment we live in, having respect for agreements made, not taking what is not ours to take, and abiding by any other moral or legal rules in society.
5. 정명(正命): 바르게 생활하기 LIVE CORRECTLY/ RIGHT LIVELIHOOD
This is about contributing to society and the world in a moral and upstanding fashion. Working in a job or position that is respectful to others and the world around us. Dedicate your live to worthy causes; always do your share and fulfill your responsibilities.
6. 정정진(正精進) · 정근(正勤): 바르게 정진하기 RIGHT ENDEAVOUR/ RIGHT EFFORT
To devote oneself to all tasks and apply oneself in a correct fashion, with a steady and cheerful determination. Cultivating enthusiasm and a positive attitude in a balanced way – the amount of effort should not be too intense nor too impatient, nor too lax and laid back. Efforts include self-development with noble qualities.
7. 정념(正念): 바르게 깨어 있기 RIGHT MINDFULNESS/ CORRECT FEELINGS
This means being aware of the moment and existing in the present, being aware of the journey from A to B – what you can see, hear, smell, notice, feel – at any one point in time, rather than thinking about where you are going to, or where you have left. In this awareness, we can see how our emotions, like fears of future possibilities, limit our present action. This is the cultivation of self-awareness, acceptance, compassion and satisfaction.
8. 정정(正定): 바르게 삼매(집중)하기 RIGHT CONCENTRATION/ ABSORPTION
This is about uncluttering the mind, and being able to focus on one thing. It involves contemplation and concentration culminating in intellectual intuition and wisdom. True concentration and focus occurs hand in hand with mindfulness. When we are able to see things as they really are in the moment and focus on them, rather than seeing them as we have been conditioned to see them or in relation to other ideas/ thoughts running through our heads.