About Us
Yun Hap is a not-for-profit club in Brisbane
WELCOME TO YUN HAP TAEKWONDO
Yun Hap Taekwondo Club Inc. is an established and evolving club supporting people to achieve their goals in taekwondo and life.

Our club is managing CoVID-19 requirements, all our club locations are cleaning, temperature checking, social distancing and recording attendances.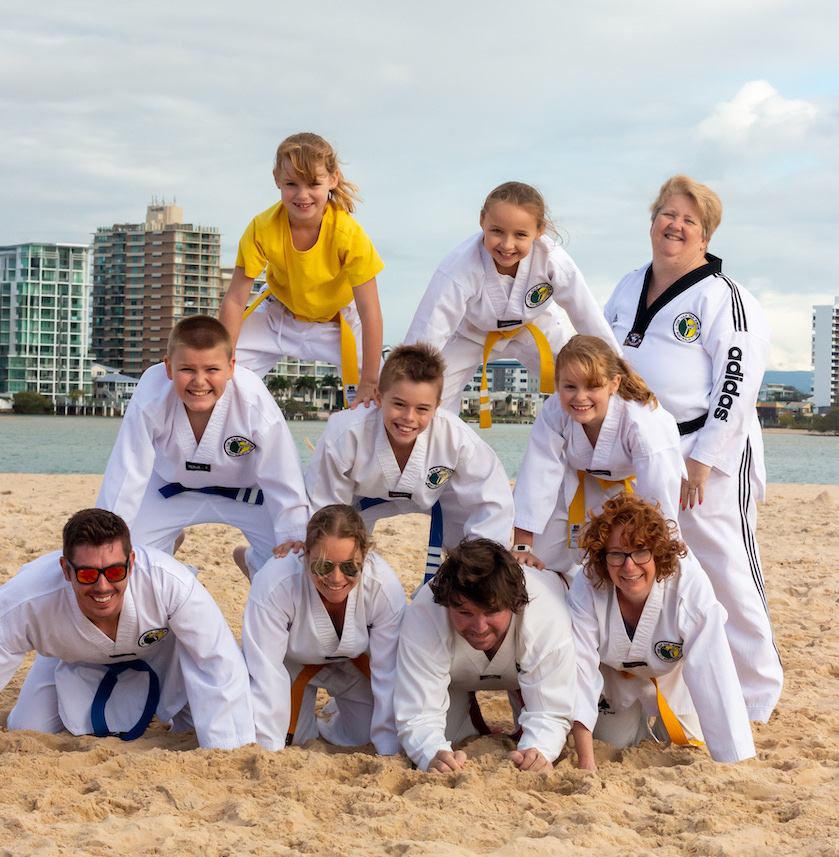 Yun Hap is community, supporting and developing our people.
We challenge and lead through taekwondo and its tenets.

Yun Hap is a supportive family-based club that inspires our participants to live the taekwondo tenets: courtesy, integrity, perseverance, self-control and indomitable spirit.

We assist out students to achieve by facilitating advancement through the ranks of Taekwondo on a regular basis and through exposing them to a wide range of experiences in training, martial art participation and competition.

Our club was founded on 5th July 1995 and is a not-for-profit association (these are sometimes called for-purpose organisations).

Yun Hap Taekwondo Club is affiliated with World Taekwondo, through membership of Australian Taekwondo via Australian Taekwondo Queensland.

Through these memberships, the club and participants have insurances, like most other sports, and Yun Hap instructors all have current Working with Children Blue Cards, coaching accreditations and current first aid qualifications.

Students are required to maintain membership of the club.
About Taekwondo
Taekwondo is a traditional martial art, originating in Korea, as well as a modern sport. It is recognized as one of the most systematic and scientifically analysed physical activities in the world. Training our body and mind in taekwondo's disciplined environment contributes to good lifestyle balance. As a modern sport it has also become global and gained international recognition, and stands among the official 'games' in the Olympics, quickly developing in technology, including the use of electronic protective equipment for scoring, and developing in sport presentation through adjustments to rules as each Olympiad rolls through. It's an optional Commonwealth Games Sport and hasn't yet appeared on that stage.

Taekwondo has been particularly noted as a sport that is instrumental in assisting all round development: physically, mentally and socially. While providing a sense of belonging within the friendly club environment. It nurtures coordination, quicker reflexes, self-esteem, concentration, ethics and self-control. As such, the benefits overflow into other areas of our life, school, work and play.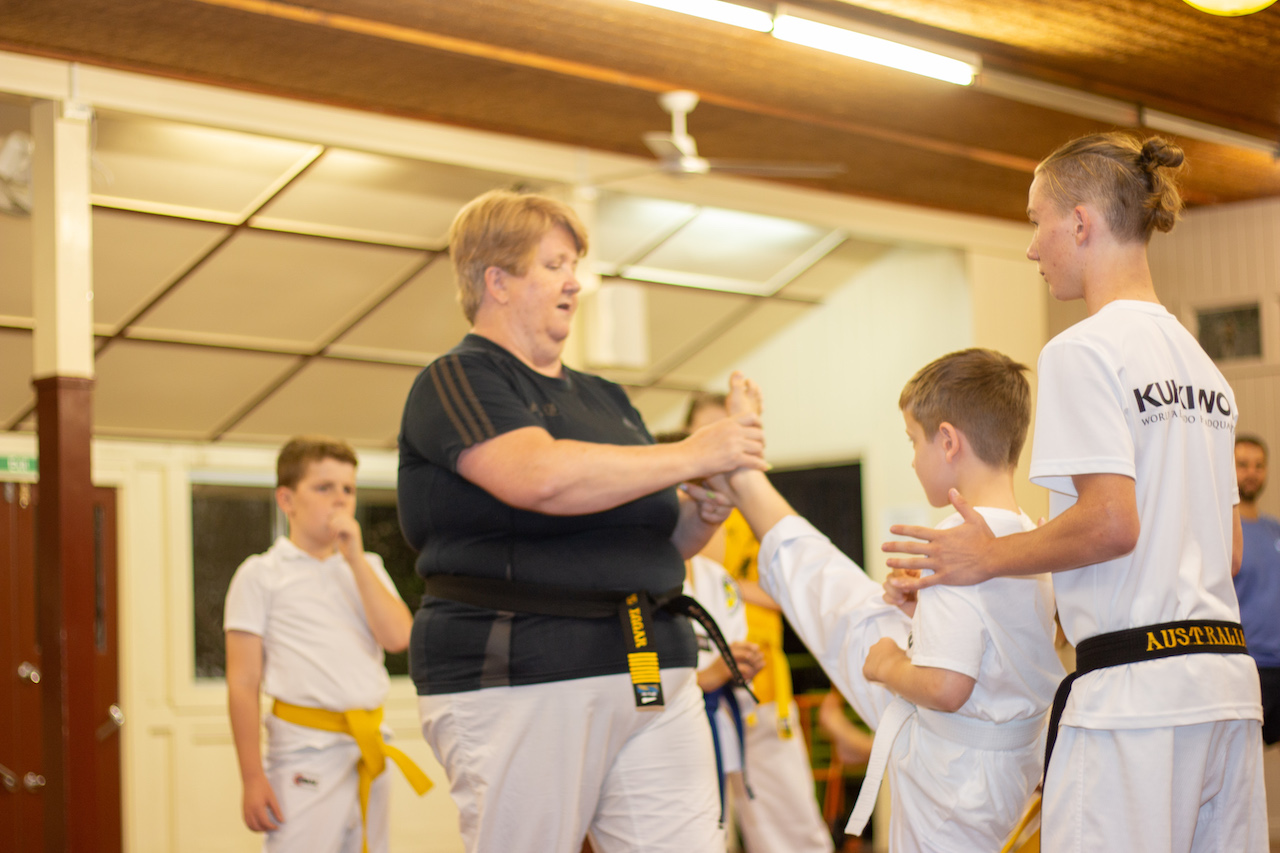 Our Instructors & Black Belts
Stefan Burroughs

Clubs

:

Trains at Kedron and Mitchelton

Started Training

:

January 2012

Black Belt

Adam Murphy – 1st Dan

Clubs

:

Trains at Mitchelton

Started Training

:

January 1970

Black Belt

Samuel McFadyen – 1st Dan

Clubs

:

Trains at Kedron and Mitchelton

Started Training

:

January 1970

Black Belt

Aleksandr Resare – 3rd Dan

Clubs

:

Trains and assists with instructing at Kedron and Mitchelton

Started Training

:

January 2012

Aleksandr Resare

Sascha – 1st Dan

Started Training

:

January 2015

Black Belt

Orla – 1st Dan

Started Training

:

October 2013

Black Belt

Cooper Sweedman – 3rd Dan

Clubs

:

Trains at Mitchelton

Started Training

:

January 1970

Black Belt

Samuel T – 1st Dan

Started Training

:

January 2015

Black Belt

Tim Eggar – 1st Dan

Clubs

:

Trains at Kedron and Mitchelton

Started Training

:

March 1999

Advanced First Aid
Blue Card

Black Belt

Talia – 3rd Dan

Clubs

:

Trains and assists with instructing at Kedron, Mitchelton and Hawthorne

Started Training

:

January 2015

Black Belt

Stuart Eggar – 3rd Dan

Started Training

:

January 2008

Black Belt

Nils Resare – 2nd Dan

Clubs

:

Trains and assists with instructing at Kedron and Mitchelton

Started Training

:

January 1970

Black Belt

William Eggar – 4th Dan Instructor

Clubs

:

Instructs at Hawthorne and assists with instructing at Kedron and Mitchelton

Contact Details

:

0408 918 570

Started Training

:

January 2000

First Aid
Blue Card
Sparring Coach
Oceania Poomsae Coach

Instructor

Kate Eggar – 7th Dan Instructor

Clubs

:

Instructs at Kedron and Mitchelton and supports Zillmere

Contact Details

:

0408 982 248

Started Training

:

June 1980

Advanced First Aid
Blue Card
Level 1 Poomsae Judge
Senior Class Referee
Referee Presenter
Sparring & Poomsae Coach
Global Officiating License

Instructor

Duncan Resare – 4th Dan Instructor

Clubs

:

Instructs at Zillmere and Everton Park

Contact Details

:

info@yunhaptkd.com.au

Started Training

:

January 2000

Senior First Aid
Blue Card
Poomsae Judge

Instructor